MIDI Monitor View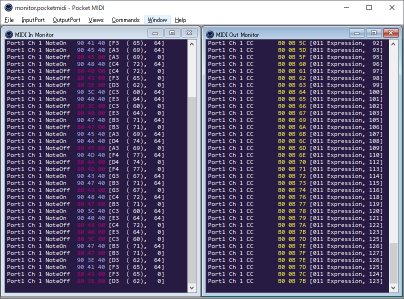 MIDI Monitor View は、MIDI 機器の出力するメッセージをリアルタイムに表示する機能です。 受信メッセージを表示する MIDI In Monitor に加え、本アプリケーションから出力したメッセージを表示する MIDI Out Monitor を備えています。 また、MIDI Monitor View に表示するメッセージを MIDI Filter によって詳細に設定することができます。
Display MIDI streams in real time using the MIDI Monitor View. It has a MIDI In Monitor for the incoming messages, and a MIDI Out Monitor for outgoing messages. Use the MIDI Filter to filter and display desired messages.
System Exclusive Message View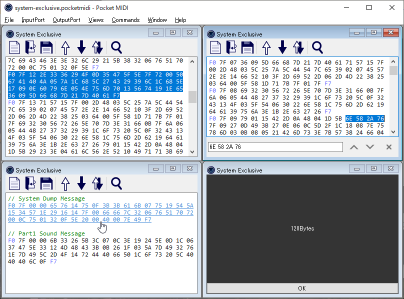 System Exclusive Message View は、System Exclusive メッセージを送受信する機能です。 テキスト入力した MIDIメッセージの送信・受信のほか、MIDI 機器からの受信を待ったり、MIDI機器へ送信したリクエストに対する応答メッセージを受信したりすることができます。 また、メッセージをテキストファイルから読み込んだり、受信したメッセージをテキストファイルに保存したりすることができます。
Send and receive system exclusive messages using the System Exclusive Message View. Send text-inputted messages, wait for messages from your instrument and receive messages in response to MIDI transmission to your instrument. You can also read messages from a text file, or save received messages into a text file.
Channel Message Views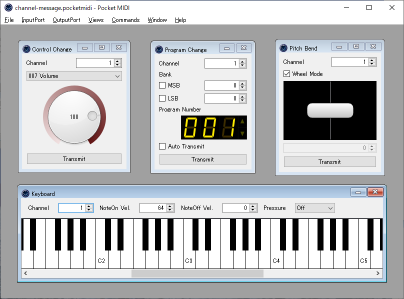 Channel Message View は、チャンネル・メッセージを送信する機能です。 Note On/Off、Control Change、Program Change、Pitch Bend に対応する専用のビューを備え、それぞれのメッセージが持つパラメータを設定することができます。 また、同種のビューを複数表示し、異なるチャンネルを設定することでマルチパートを同時に操作することができます。
Send channel messages using the Channel Message View. Use any of the available specialized views for setting Note On/Off, Control Change, Program Change, Pitch Bend parameters and more. In addition, you can simultaneously open the same type of view for multiple channels, allowing you to simultaneously set multiple channel parameters.